The fast-approaching summer blockbuster period is a crucial time for film studios. With awareness-building activity being a key driving factor of final box office figures, our Insights team identified 5 consumer behaviour trends and activation tactics that can help film studios be present in the film research moments that matter. 
1) Film releases have a short but sharp intent peak
By analysing hundreds of individual film title release intent trends over the past year, we were able to confirm that film releases have a short but sharp intent peak that capture 39.7% of the opportunity on average when compared to 6 month prior and 6 months post launch.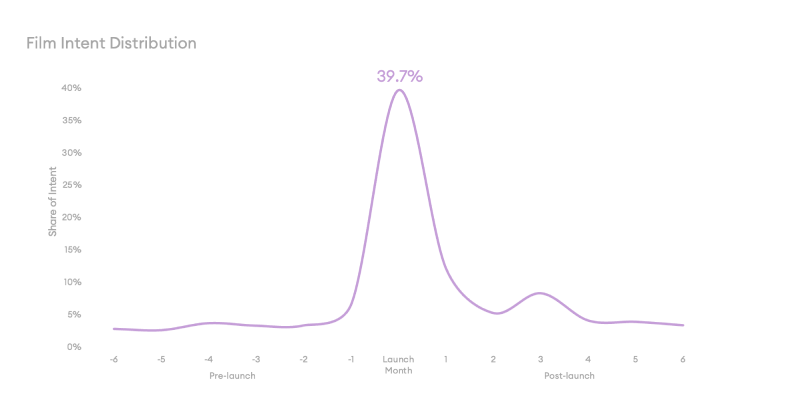 This is a meaningful insight when it comes to planning campaign flighting as it validates the need to maximise awareness during the short consumer attention window, which is typically within two weeks prior and post the film release date. 
Additionally, this behavioural trend highlights a key competitor conquesting opportunity, as content mentioning similar launch window competitor film titles can be intercepted with awareness-building creative, nudging the consumer to purchase a different ticket. 
2) Informational film intents uncover the consumer consideration stage
Whilst researching which film to watch next, consumers refine their search queries and browse different types of film content.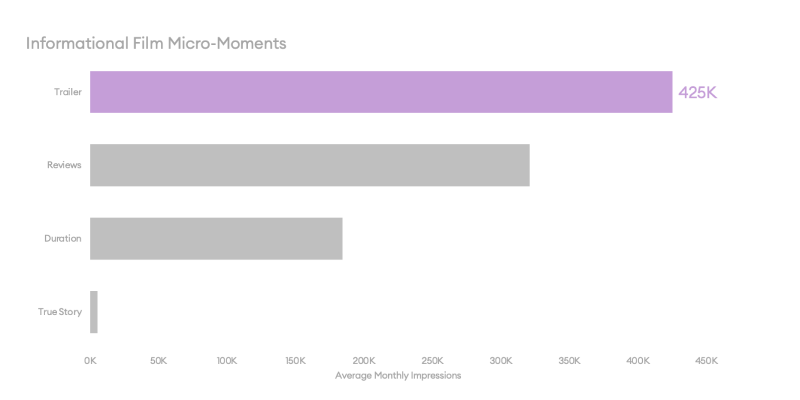 Trailer informational intent leads film review and duration intents. Naturally, these informational film micro moments provide an opportunity for savvy advertisers to satisfy the active intents with tailored creative. One use case can be testing film creative that includes positive 4/5-star critic reviews when the consumer reads relevant competitor film reviews. 
3) Horror is the most sought-after film genre throughout the year
But what about digital streaming film inspiration? With so many consumers researching the next best film to watch by browsing content by genre, there are a number of behavioural trends that stand out. For instance, Horror is the most in-demand film research genre throughout the year, notably even outside of the Halloween period.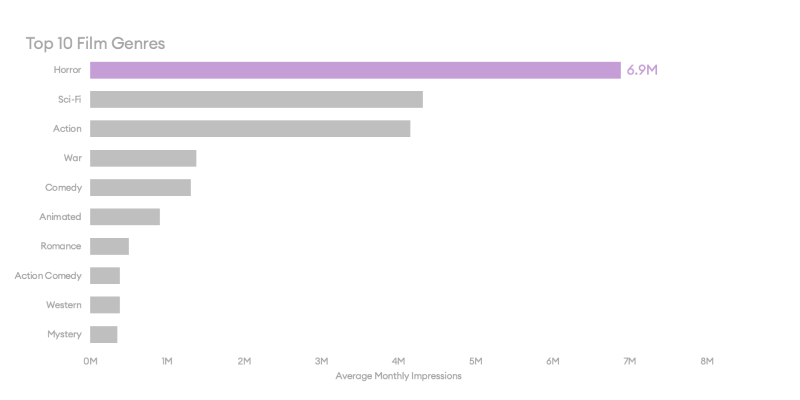 Building target film awareness amongst consumers actively browsing content from the same genre is an effective awareness-building strategy to utilise within campaigns.
4) Some Film Genres Are Highly Seasonal
Horror film intent peaks in October in line with Halloween whilst romantic film intent peaks in February to coincide with Valentine's Day.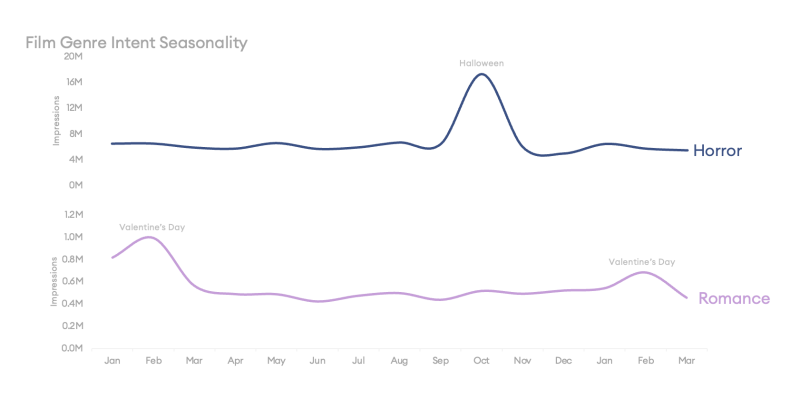 Building relevant title awareness during the natural film genre seasonality peaks can be an effective way to drive VOD and Blu-ray purchases.
5) Netflix research intent dwarfs other streaming services
When it comes to researching best films to watch by genre, Netflix dwarfs its close competitors Amazon Prime and Disney Plus.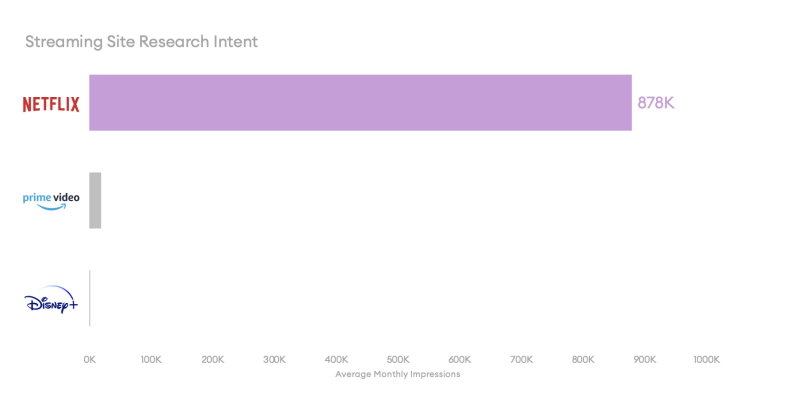 Consumers engaging with this branded content is a useful indicator that a consumer has an active subscription to the said service, which provides an opportunity to both bolster campaign reach and test improving engagement by tweaking the campaign creative to mention the streaming service.

As the transition into the cookieless world approaches it's important for advertisers to accelerate partner testing and get set up for success. At Nano, our unique live-intent targeting and contextual offering can help you futureproof your digital strategies and drive performance. Learn how we can help by booking a demo today!