The pandemic-driven lockdowns of 2020 highly benefited the gaming sector, with play time increasing by double digits. With the annual November gifting peak fast approaching, our Insights team identified 3 key activation tactics that can help brands, agencies and marketers in the gaming sector be present in the moments that matter as the world returns to normal.
1) Build title awareness across relevant genres
Game genre-based content presents a large and ever-evolving targeting opportunity for brands, which are highly influenced by the title launch cycle and release announcements. This could be observed in the chart below, which, due to the popularity of Elden Ring, saw Action Role-playing dominate other genre opportunities in February.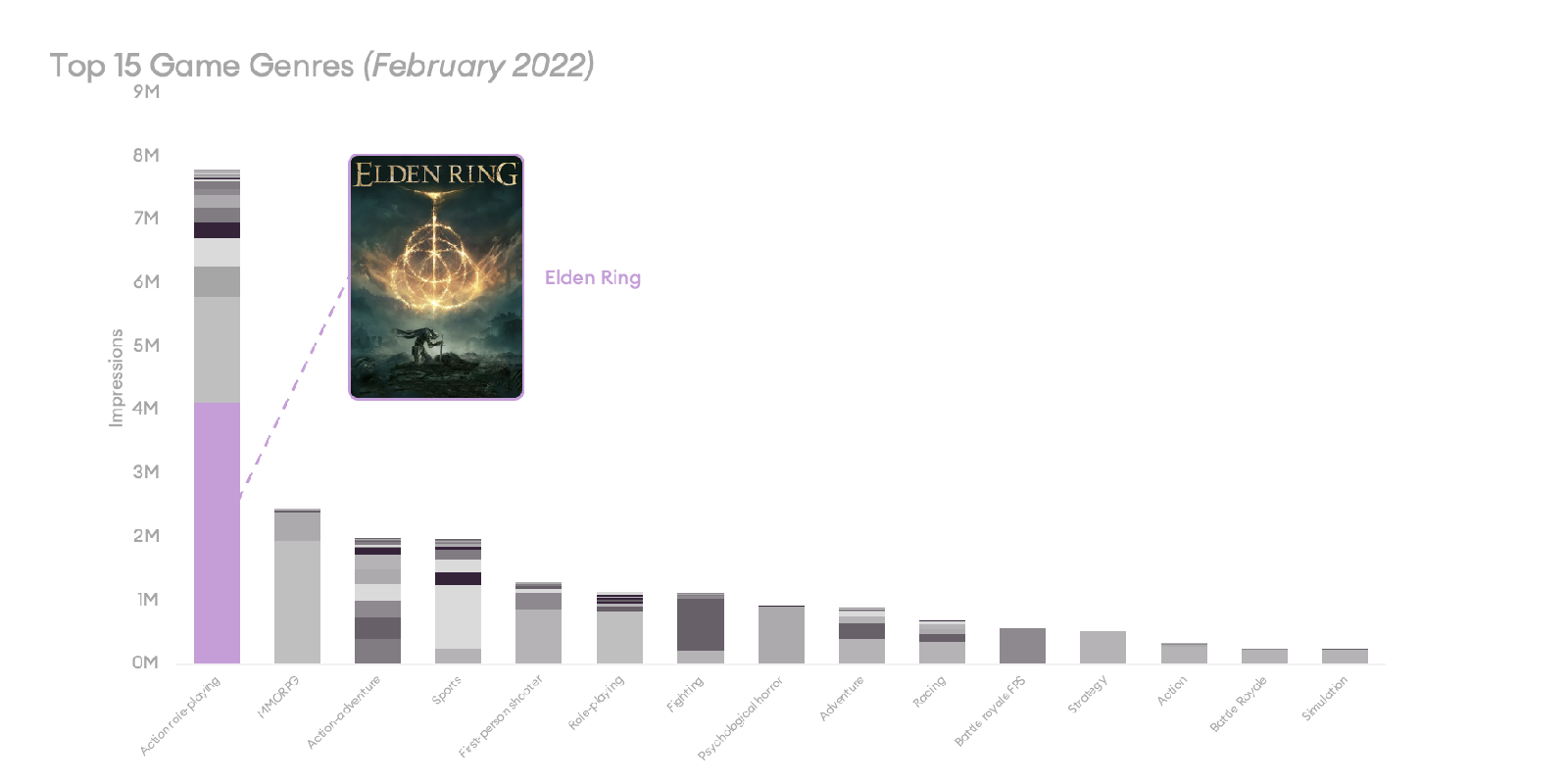 With each game title release having a short but sharp demand spike (see Cyberpunk below), targeting by genre-based intent will inevitably cover a range of titles and thus vary significantly month by month.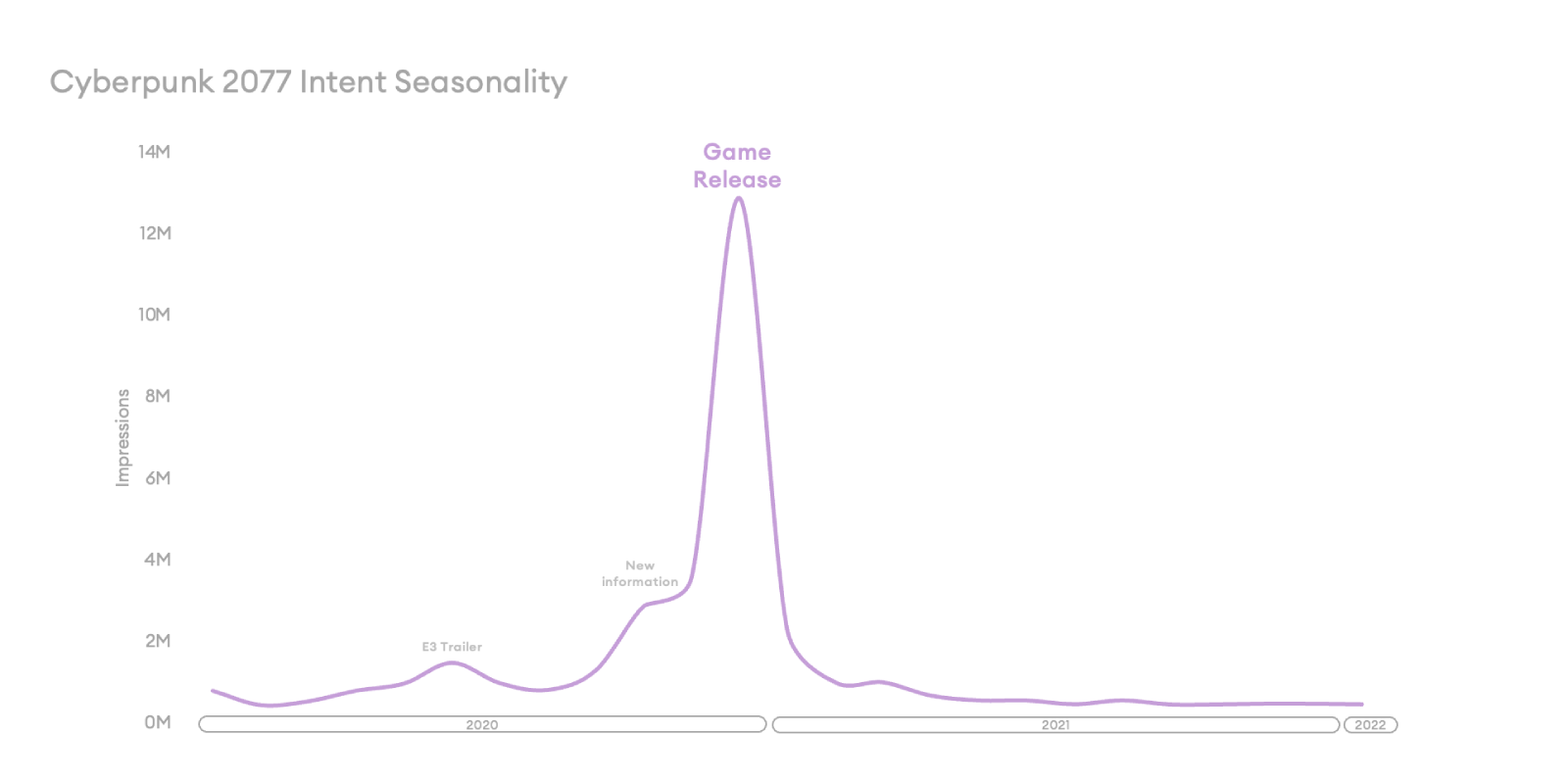 Directly targeting game genre content which matches or is adjacent to your game title is key to building awareness amongst a hyper-relevant audience. Whilst a simple tactic on paper, to work strongly it must:
Ensure that all past and upcoming game titles for the genre are part of the targeting strategy (this is included out of the box at Nano with a Knowledge Graph-based model and index of 100s of game titles)
Use creative intelligently. Using creative that acknowledges the genre of games being browsed with callouts within the copy (e.g. 'Voted

Best RPG

of the Year') is likely to drive stronger performance and is worth split-testing. For the increasing number of non-gaming advertisers looking to reach gaming audiences, this may also give useful clues around how to tailor creative around the time of major releases.
2) Consider seasonality in campaign flighting

Another key point to bear in mind, is that not all game genres are created equal – some have one seasonal peak across the calendar (think sports for example, which is largely driven by the yearly release of Fifa), whilst others like First Person Shooters (FPS) intent demand grows in waves to reach a crescendo – reemphasizing the need for a flexible budget when targeting by genre.
It's worth highlighting that the same can be applied for hardware, where the importance of the November/December gifting period is highlighted in the impression opportunity for game consoles.
3) Craft a bespoke strategy to you
Genres, game titles, hardware and affinity interest are just a few further live intent options which can work either individually, or in any conceivable combination: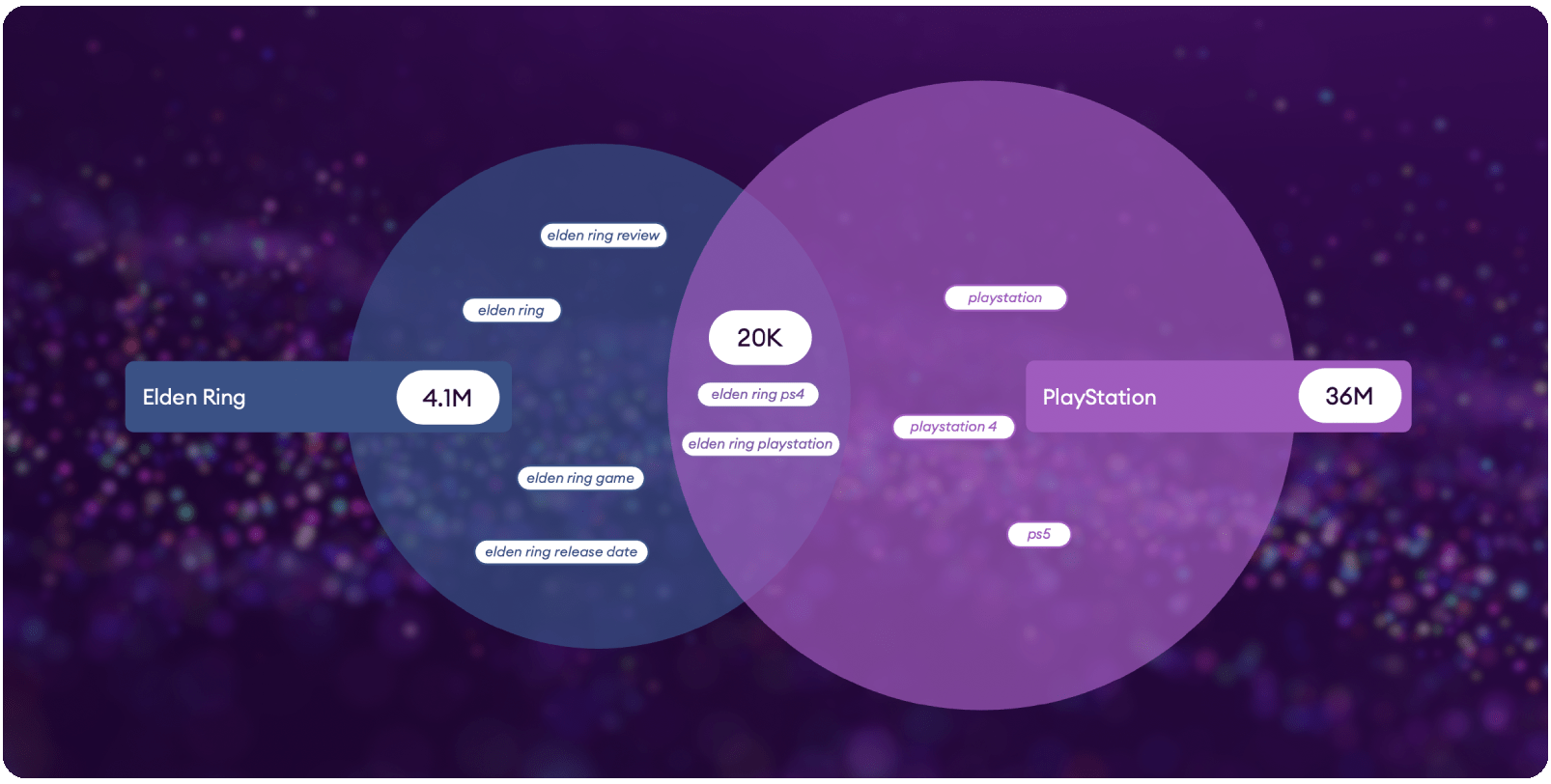 Applying these combinations may result in the type of micro-targeting effectiveness that cookie-driven methods have been able to deliver in the past, just without the use of any identifiers! There is almost an unlimited number of options and targeting combinations here for brands wishing to innovate in testing creative and attention metrics to a huge range of live contexts.
Discover our full gaming targeting capability:
—
As the transition into the cookieless world approaches it's important for advertisers to accelerate partner testing and get set up for success. At Nano, our unique live-intent targeting and contextual offering can help you future-proof your digital strategies and drive performance. Learn how we can help by booking a demo today!